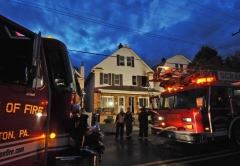 "On October 25 2015, My tenant's cat knocked over a candle which caused a fire in the bedroom and extensive smoke and water damage to the property.
While I had my insurance documentation, I had no idea how to proceed – so I decided to work with Scott Seeherman from Commonwealth Adjusters. Scott was able to discuss issues with the insurance company, understanding how the issues needed to be addressed to get coverage. He was also well versed on understanding that coverage extended beyond just the fire , as damage did occur in walls, ceiling, floor, etc. – items that I wouldn't have even thought of. But probably most important to me was that this was a time consuming process, and not having the time to do the follow-up that this would have required, I appreciate Scott being able to stay on top of this to get the settlement done. The negotiations probably went longer than any of us thought, but Scott worked with the Insurance company to get me a settlement that was double what initially was offered by my insurance company. He made visits to see the damage to show the insurance company what they were unable to settle over the phone or through emails. Beware of your insurance agent and others whom say to stay away from a public adjuster. The insurance company are in the business of making money not paying out claims, Scott represents you and the fee he charges is nothing compared to the settlement he will negotiate on your behalf.
I am pleased with the work that Scott Seeherman did on my behalf and would suggest them to friends and family in the future."
Ready to talk? So are we!
In business since 1964, Commonwealth Adjusters is a family-owned and insurance adjuster. We have a long, successful track record of helping claimants get the largest settlement possible from their insurance company. Let us put our experience as a public adjuster to work for your family or business. Schedule a FREE, no-obligation consultation.