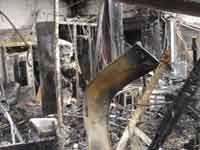 "In the year 2010 WVIA hired Scott Seeherman of Commonwealth Adjusters, located in Forty Fort, Pennsylvania to represent the organization, after a fire destroyed our transmitter building in Mountaintop, Pennsylvania. As the main liaison between Mr. Seeherman and WVIA I can state confidently that  he is extremely knowledgeable in all aspects of damage recovery when dealing with insurance companies. His expertise allowed us to recover everything our policy covered including many items and services we were unaware we were entitled too.
Although our fire was a life changing negative event for me, it did allow me to, on a positive note, learn many things. Perhaps the most important lesson learned was to have an expert representing you in the negotiation with the insurance company. I would highly recommend his services to anyone having an insurance claim to file. In the unlikely event we would ever experience another issue we would certainly contract Commonwealth Adjusters services."
WVIA, Public Television and Radio
Ready to talk? So are we!
In business since 1964, Commonwealth Adjusters is a family-owned and insurance adjuster. We have a long, successful track record of helping claimants get the largest settlement possible from their insurance company. Let us put our experience as a public adjuster to work for your family or business. Schedule a FREE, no-obligation consultation.